Jiangsu Huantong Microwave Technology Co., Ltd. is a new company founded in Jiangsu Province in May 2010 by Hebei Huantong Microwave Technology Research and Development Co., Ltd. in 2019. It has established a scientific research team consisting of one postdoctoral, two doctoral, eight master's degree students and several specialist students of mechatronics. At the same time, it invites five retired experts to teach. In the past six years, we have cooperated with 54, 13, Beijing, Xi'an and Chengdu Institute of Electronics, and have formed a variety of diversified and serialized communication products. These high-quality products are widely used in military and civil industries at home and abroad. It has been widely used in satellite, navigation, line communication, emergency communication, signal transmission and other fields. Three kinds of high-quality products have been authorized by the national utility model products: (1) microwave antenna KU band duplexer, patent number: 201320473545.5; (2) band coaxial conversion device, patent number: 201320473525.8; (3) Microwave thermal accumulator, patent No. 20132047571.8.
Jiangsu Huantong Microwave Technology Co., Ltd. has registered capital of 10 million yuan. On the basis of continuing to do well in microwave technology research and development, the company will continue to develop, design, produce and sell industrial robots to meet the needs of developing and using robots in all walks of life in the world and in China. Yin Xintong, chairman of the board of directors, was invited to participate in the Hebei International Equipment Manufacturing Exhibition in April 2015. As a special representative, he participated in the ribbon-cutting ceremony. The six-axis freedom welding robot developed and produced by the company independently was displayed at the exhibition. It was attracted by three professors of Hebei Railway College, teachers and students of Hebei University of Science and Technology, and related enterprises. Career leaders and participants were widely concerned and praised, and signed application contract letter of intent with a number of enterprises.
The company has the core technical force of using the most advanced off-line network programming, has more than 100 technical personnel at home and abroad to coordinate maintenance services, can produce independent brand of industrial robots, its performance is convenient, fast, easy to understand and understand. Easy to operate, high quality and low cost industrial robots, service robots. At present, we have obtained five patents for manufacturing industrial robots: (1) Instructor: Patent No. 201530077982.x; (2) Four-axis Robot: 201530077985.3; (3) Multi-span Robot, Patent No. 201530077983.4; (4) Six-axis Robot, Patent No. 201530077984.9; (5) Open Robot Device, patent number: 2015, 2019, 810.4. These patents can be regarded as a technological revolution in the field of industrial machinery. These patents can be compared with the performance machines of robots developed in the world for 100 years. They will play a positive role in promoting the technological level of industrial robots in our country, and will certainly lay a solid foundation for our country to catch up with the world advanced level and produce our unique manufacturing technology. Strong and solid foundation.
At present, the company's business scope: industrial robots and peripheral equipment, servo motors and drivers, numerical control equipment, computer software development and original electrical accessories, electronic microwave waveguide, microwave drying equipment and devices, communication equipment, microwave carbon fiber antenna, environmental protection product design, research and development, production and sales. In the next step, we will upgrade and apply for more than 100 technical patents, which will protect our products from being pushed into the market in an all-round way.
At present, the company's products are mainly sold in Beijing, Changchun, Hebei Shijiazhuang, Baoding, Gaocheng, Hengshui, Zhaoxian, Tangxian, Henan, Zhejiang, Jiangsu, Shanxi, Shandong and other places. Taiwan Foxconn Group, Hebei Foxconn Company and Yili Mengniu Food Co., Ltd. are waiting to sign the agreement.
The company will design, develop, produce and sell 24,35,77 GHz millimeter wave radar, which will be put into the market in large quantities. There are 11 automobile manufacturers and orders from road traffic, urban intelligence, security and air China. It serves Chinese automobile users and intellectualized service. It is the gospel of China and all mankind, and escorts the public to reduce property losses and life safety. Let's work together to realize the Chinese dream.
Integrated millimeter wave radar can be widely used in the detection of the surrounding environment of mobile objects such as automobiles, road management and the detection of environmental conditions of intelligent urban nodes. The successful development of integrated millimeter wave radar has made a great breakthrough in the development of integrated portable microwave detection industry in China, and has provided a practical and effective technical guarantee for reducing property losses and protecting human life and safety. The sale and application of integrated microwave radar in domestic and foreign markets have brought benefits to all mankind from technological progress. In order to achieve the historic progress of serving human beings as soon as possible, the company is expanding its R&D and production teams, integrating upstream and downstream industrial chains, and has made a good development plan for revitalizing Jiangsu's "Microwave Valley" industrial park with scientific and technological economy.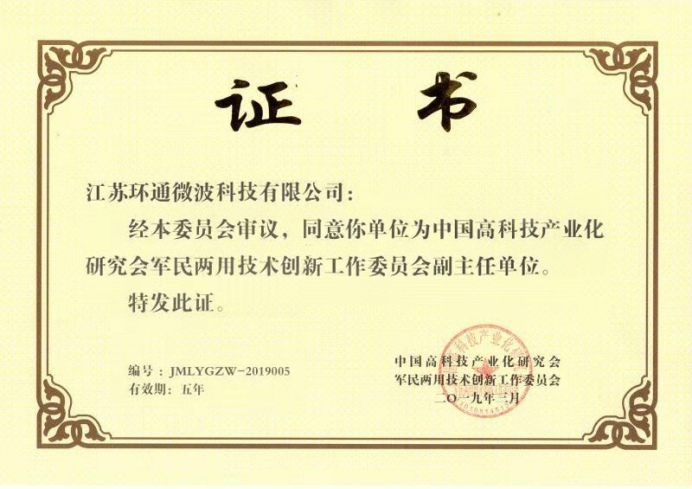 Our mission has always been to link the development and needs of customers, and strive to create more value for customers, with progress and brilliance.
People-oriented aspiration, development and pursuit of excellence
Customer success is the symbol of our success. Employee growth is the symbol of the company's growth. We strive to create conditions for the progress and development of employees, create a sense of team responsibility and mission, enhance corporate cohesion and reflect self-worth.
Honesty, pragmatism, cooperation, pioneering and enterprising
We take the spirit of "honesty and pragmatism", take customers as the center, products as the core, and strive to create a brand, technology and service as the core competitiveness of enterprises, work together for innovation, and constantly open up new markets and fields.